Texturing Project - Lara Croft
Written by Michael Devore
Wednesday, 16 December 2009 00:47
A bit of a belated update, now that the project is done.
After finishing the face and head, I moved on to the character's body and clothes.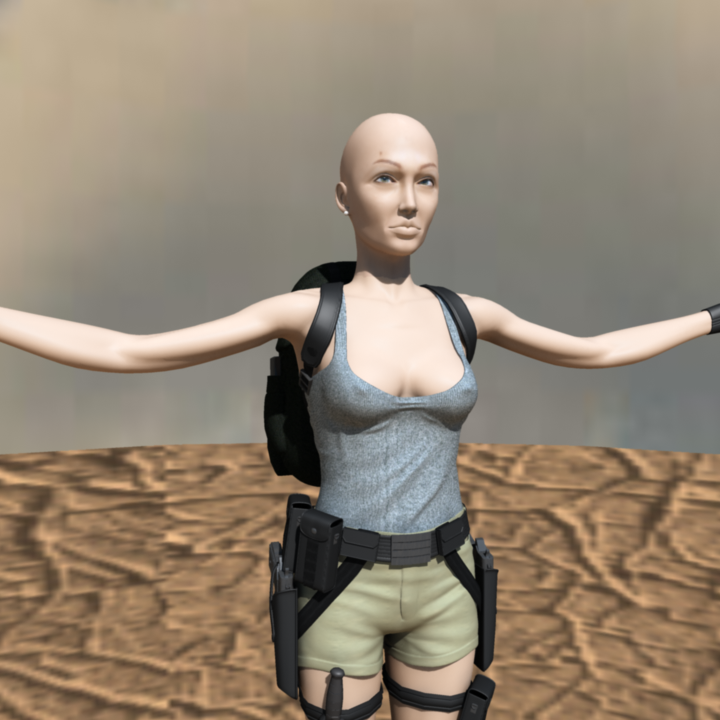 The UV maps were kept as straightforward as possible, with cylindrical projections serving for her shirt and shorts. The backpack and smaller accoutrements worked well with MAYA's automatic mapping. The straps for the backpack and holsters required a bit more finesse to align the nylon webbing properly to the geometry. To accomplish the alignment, I first took a planar projecion from the angle that gave me the straightest and cleanest view, and then massaged the uvs until they were even an square.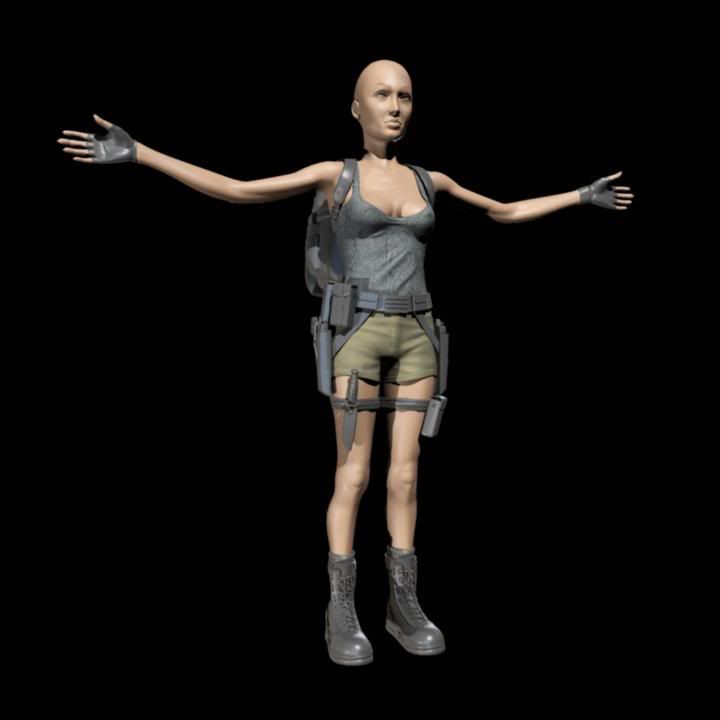 One issue visible here is a discontinuity along her neck. This problem is fixed in later versions. 
Last Updated ( Wednesday, 16 December 2009 00:47 )
| | | | |
| --- | --- | --- | --- |
| Head, Face and Eyes - the Eye Area | | | |

Written by Michael Devore

Wednesday, 14 October 2009 22:24

Over the past week and a half, I've been working on UV mapping the head, and painting an appropriate texture to apply to the skin using a combination of a publicity photo of Miss Jolie and sample skin textures. This is the texturing and shading around the eyes as it stands now:

The shader being used for the skin is a Mental Ray subsurface shader, with the painted head texture piped into the diffuse channel or the surface layer. They eyes are using two Blinn shaders: one to give the sclera, iris, and pupil their color, and a second, applied to an encompassing piece of geometry, is transparent, and adds specularity and reflections.

 

The basic UV maps were layed out using a spherical projection, and then massaged to be more workable.

Elements from various reference photos were then introduced and retouched to produce an appropriate texture map for the eye area:

The eyes use a simple planar projection UV map, and an equally simple photoshopped texture, assembled from a recolored photograph of an eye, and some quick paint work:

Last Updated ( Wednesday, 16 December 2009 00:38 )

| | | | |
| --- | --- | --- | --- |
| Texturing Lara Croft - References | | | |

Written by Michael Devore

Wednesday, 14 October 2009 22:02

The Untextured Model, provided by Eiad Dahnim:

The model differs from the canon costume primarily in it's lack of some of the small detailing (for example, the canon belt is studded with large grommets and has a skull belt buckle, while the model's belt has no visible perforations and plain buckle).

The cap on her head is to help with hair placement later.

In light of these differences, I've decided to develop an alternate costume, rather than trying to replicate the canon version.

To this end, I'm using materials that popped into my head as I was looking over the model for the first time; ribbed cotton, khaki, and leather. The overall effect is a lighter 'desert hiking' outfit. 

 The Materials:

Grey Ribbed Cotton will be used for her t-shirt.

Cotton khaki will be used for her shorts.

Worn leather will be used for her boots and a variety of her accoutrements.

Worn rubber will be used for the soles of her boots, as well as the grips on her guns and knife.

White knit cotton will be used for her socks.

Heavy black canvas will be used for her backpack.

Black nylon webbing will be used for the straps of her backpack, as well as parts of her belt and holsters.

Her skin and eye textures will be built around actual photographs of Miss Jolie, with missing portions reconstructed from photographic samples of other people's skin.

Last Updated ( Wednesday, 14 October 2009 22:26 )